just add water! Whenever you need towel, just put it in cold or warm water for several seconds, it will be expansile and become a large soft towel.
Compressed Towel will be your best travel towel! Say goodbye to the dirty hotel towel and no longer share towels with strangers!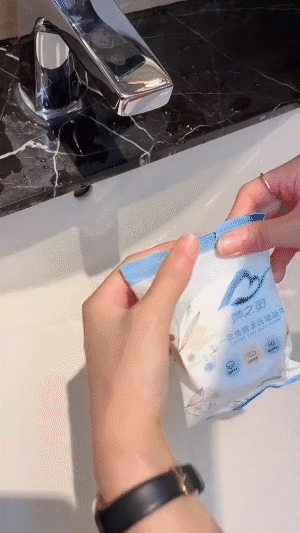 SOFT AND DURABLE: The travel towel is made of high-quality materials, which are thicker and more challenging. It is soft and comfortable enough and can be used safely on sensitive or fragile skin.
EASY TO USE: Just put a 2.4-inch diameter compressed towel in cold or hot water for a few seconds, and it will expand into a large towel, 11.8 x 27.5 inches. The size is enough to meet your various needs.
GOOD WATER ABSORPTION: The camping towel has a strong water absorption capacity, which can quickly dry the body's and hair's moisture after bathing. Washable, easy to dry, and reusable.
EASY TO CARRY: 3/5pcs compressed towels are small in size, and each is individually packaged, making it cleaner and safer. Save space, is easy to carry and take out, and is very suitable for business trips and travel.
WIDELY USED: These soft, durable towels are suitable for hotels, bathrooms, spas, travel, sports, camping, hiking and other outdoor activities. They can also be used to clean kitchens, refrigerators, and furniture, and it is also a perfect gift for survival lovers.
PREMIUM Material: This product is 100% made of selected cotton spun lace non-woven fabric, delicate and soft, skin-friendly and comfortable, with no ball, no dandruff, strong water absorption, and natural degradation. It is suitable for facial cleaning, beauty and makeup removal, and sensitive skin can also be used.
Specifications:
Material:Cotton
Size: 70*145CM
Color: White
Package Contents(optional):