This versatile peeler can handle a variety of fruits and vegetables with ease, making it a must-have tool in every kitchen.No more mess or wasted food!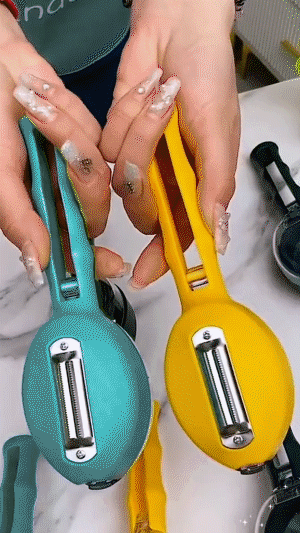 Features:
Durable and long-lasting: Made from high-quality materials, this peeler is designed to withstand frequent use and last for years. Its blades stay sharp even after repeated use.

Safe and easy to use: The peeler's design includes a protective cover that keeps your fingers safe while peeling. It's also easy to use - simply apply light pressure and move the peeler back and forth along the surface of the fruit or vegetable.

Convenient storage: The included storage box keeps your blades organized and easily accessible. It's also designed to prevent damage to the blades while not in use.

Versatile: In addition to peeling fruits and vegetables, this tool is also great for slicing cheese, chocolate, and other foods. Its sharp blades make quick work of any task.

Compact design: The compact size of the peeler makes it easy to store in a kitchen drawer or cupboard. It's also lightweight and easy to transport if you need to take it with you on the go.
Specifications:
Material: PP
Color: green blue yellow
Size: 16*5.5*4.5cm/6.29*2.16*1.7"
Weight: 40g
Packing: kraft paper box