The Car Accessory That Is Guarantee To Turn Heads!
Now they'll DEFINITELY see you rolling...
Features
App-Controlled - every colour, effect, style and mode can be fully customised from inside the car, with just a tap of your screen.
Ambient Lighting - match your mood with over 16 million colours and endless effects to choose from.
2-Line Design & Ultra Brightness: The ultra-bright LED beam of exterior car lights built-in high Intensity 3 In 1 RGB LED chip. 4 Pcs Car Led Lights (2 * 3FT+ 2 * 4FT ).
IP68 Waterproof - no amount of rain or fog will come close to damaging the LED strips.
UK/US Street Legal - only when installed correctly, with no exposed LEDs, and on a static colour mode when driving. You must still check your country's/state's laws before installing - this is not legal advice.
Sound-Sensitive - the underglow strips can be set to react to the car's music.
Easy installation - just stick the LED strips to the underside of the car and fix them on with the included cable ties, buckles and screws (optional).
1 Year Guarantee - if this device breaks within 1 year of purchase, we'll send you a replacement free of charge.
FEATURES
8 Preset Static Colors

Adjustable Brightness, Easy ON/OFF Button

4 Lighting Effects: 2 jump and 2 fading patterns

4 Sound Active Modes, the LEDs light up according to sound.

New Re-Designed Wireless Remote Control; Remote Range: Over 100ft
SPECS
LED Chip: 5050 SMD; 250 Total LEDs

Power / per LED: 0.3W

3 in 1 RGB LED Chips

Material: Flexible Rubber Tubing

Waterproof Rate: IP67

Operating Voltage: 12V DC

Length from strips to splitter: 75"

Length from splitter to end plug: 48"

Length of power wire option to plug: 44"

Length of cigarette plug option to plug: 18"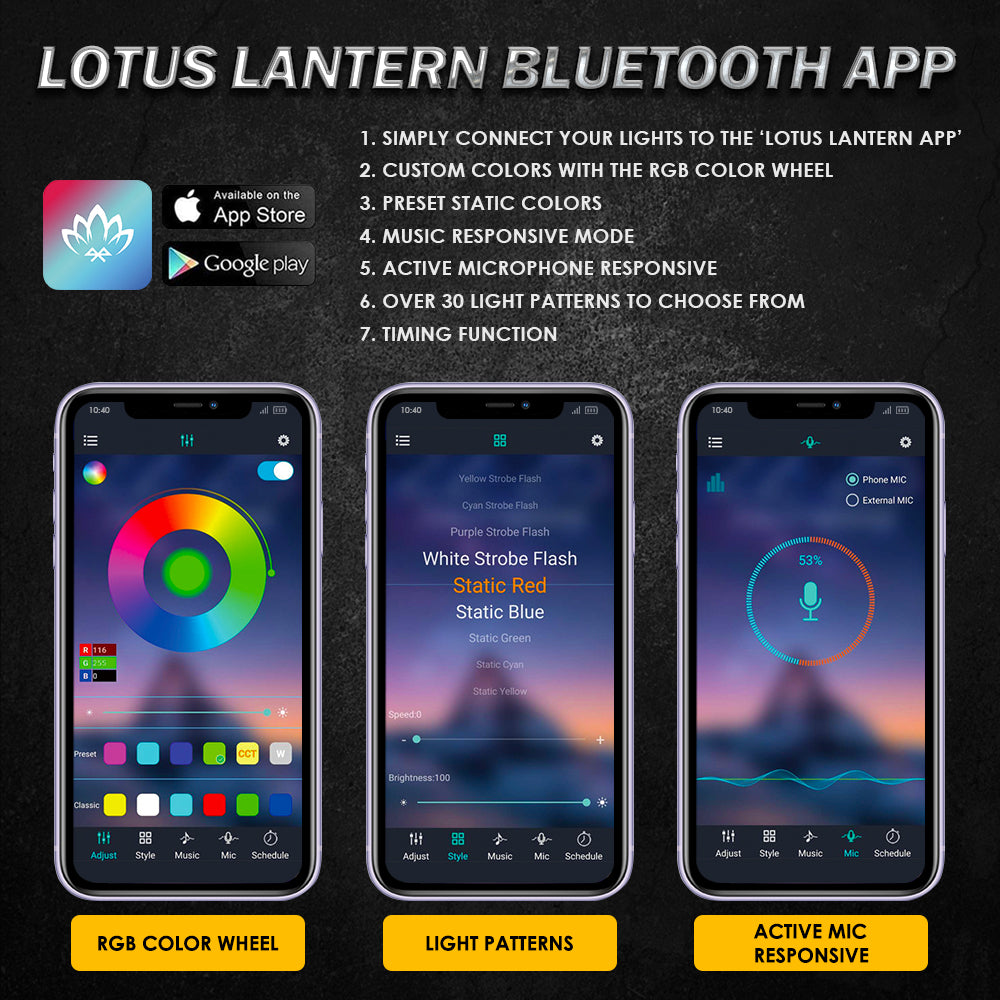 UNIVERSAL APPLICATION
All automobiles and devices equipped with a 12V power source.

It also can be used in a variety of interior and exterior applications including under car, truck beds, foot wells, rock lights, etc.
PACKAGE INCLUDES
2 x 4ft strip with 6 feet wiring harness.

2 x 3ft strip with 6 feet wiring harness.

1 x 3ft extension (pre-installed)

1 x remote control

1 x control box/sensor