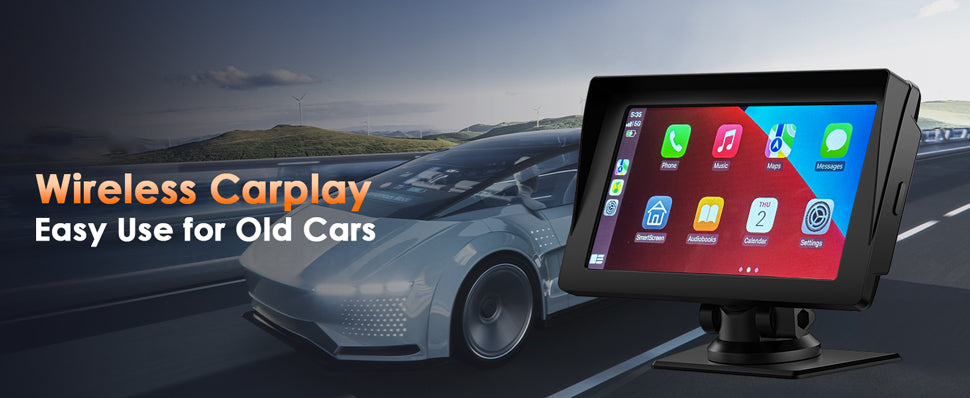 About this item
【Wireless with Apple CarPlay & Android Auto】 Wireless carplay screen syncs your Apple or Android smartphone phone for seamless access to all functions of your phone via the integrated display. You can wireless access the music, GPS navigation, messaging, and other parts of your phone while safely driving, connect to your phone via Bluetooth to enjoy this amazing. Never worry about heating and battery damage caused by using your mobile phone for navigation for a long time.
【Voice Assistant for Easy Control】 The Bluetooth 5.0 hands-free system and built-in clear mic allow you to answer the phone while driving, without having to hold your phone all the time, and support voice control at the same time, so you will always keep your eyes on the road ahead. Ensure that you reach your destination safely. And you can listen to wonderful music on the way home from get off work
【 Real-time Map information & GPS Navigation】 The real-time map information is enlarged and displayed in the apple car play radio, connected to the car speaker and the directional information is transmitted out loud. There is no need to purchase professional navigation. Mobile GPS navigation can be updated to the latest version at any time, allowing you to avoid traffic jams, change lanes, and change gas.
【Easy Installation & Save Money】 Compared with the traditional 1DIN, 2DIN car Stereo, the RC04 portable apple carplay empowers the home mechanics with its professional-level functionality but low entry-level difficulty, you don't need to engage the services of an electronics technician to assist with the installation, help you to save a lot of installation costs.
【Fit for All Different Car Types 】 Compared with the general car radio bluetooth 12V voltage setting, the working voltage of this non-embedded car radio with navigation is 12-36V. Both cars and trucks can be used. The car radio with the screen is suitable for most motor vehicles, such as cars, trucks, vans, buses, pickups, etc.
【Super Strong Stability】 Compared with the wireless carplay with a camera, our wireless carplay screen is more stable, it's not restarting, causing operation failure and other accidents. The touch screen and voice functions are also more sensitive, you can free your phone and use carplay Screen gps navigation, take calls, and listen to music, It will bring you a happy and safe driving experience.
【Professional Tech Support】The apple car play screen has a strong tech support team. We offer a 2-year warranty and lifetime tech support. We will answer your questions and resolve any ongoing issues as quickly as possible.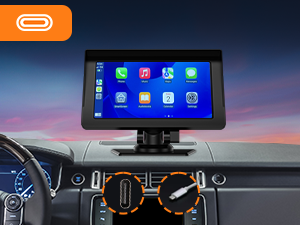 Type-C Charge
The apple screen adopts the most popular Type-C charging interface, which is universal and stable in data transmission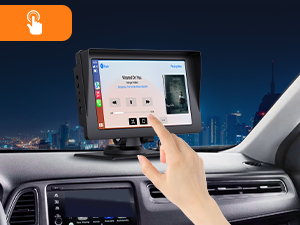 Touch Screen
Our portable car play is equipped with a 7" high-definition capacitive touch screen, giving you wonderful viewing and fingertip control experience.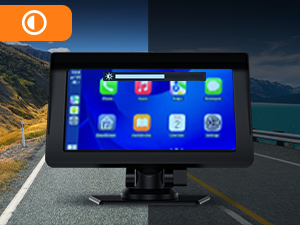 Brightness Adjustment
Carplay Screen is equipped with 10 levels of manual brightness adjustment. it is designed to protect your eyes, giving you a comfortable driving experience.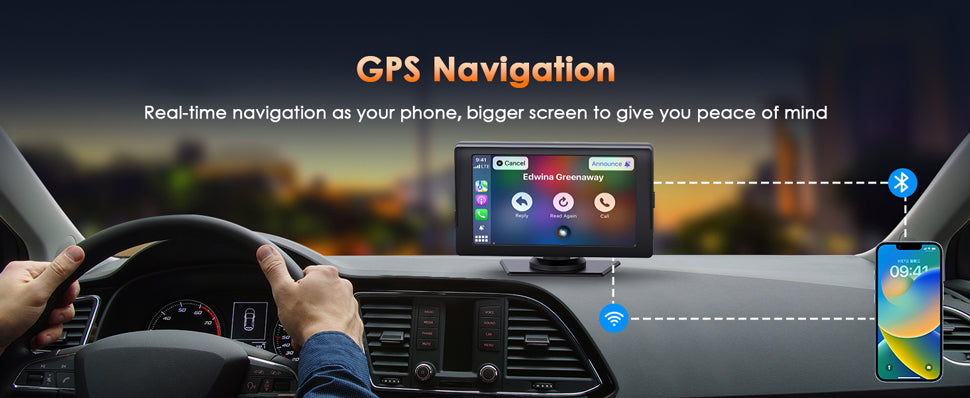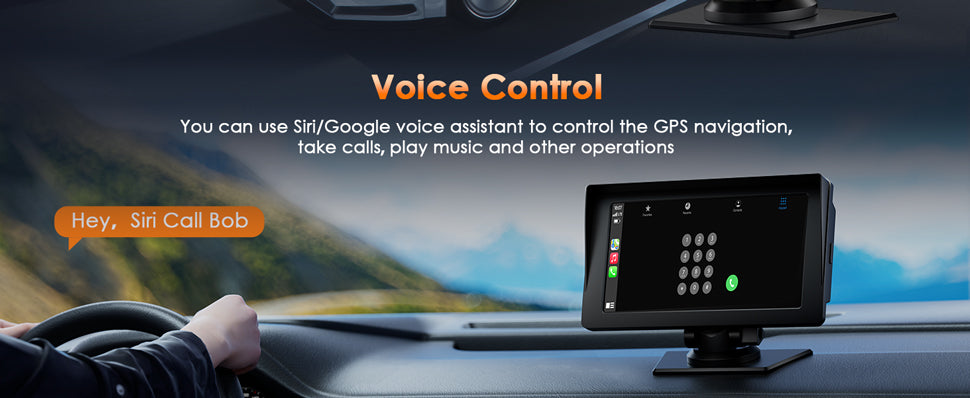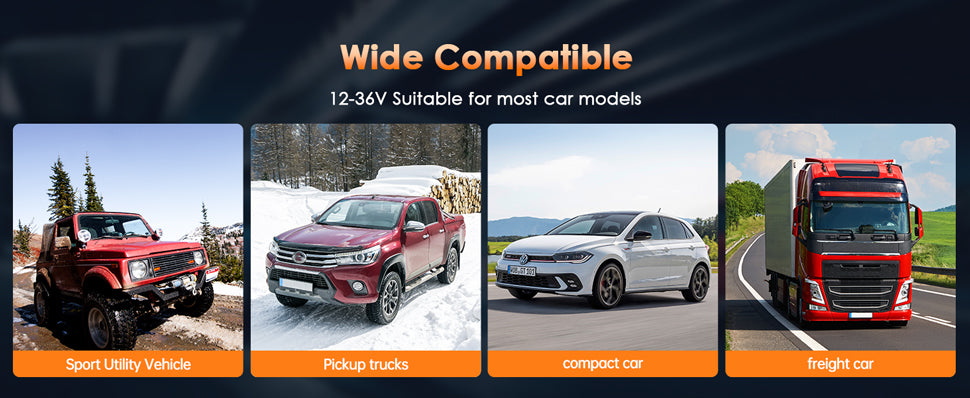 Wireless Carplay Screen - Great Choice for Old Car
Wireless Connect to Apple Carplay
Connect your Apple mobile phone via WIFI and Bluetooth, you can GPS navigate, take calls, play music, read messages, etc.

Easy to install, 5 minutes to do, and no skills are required. save your money

Supports Siri voice control, compatible with Google Maps, Pandora, Spotify, and many other APP
Wireless Connect to Android Auto
Wireless connection to your Android phone, you can take calls, play music, GPS navigate, read messages, etc.

Easy to install, saving you money and time.

Supports Google Assistant, compatible with Google Maps, Pandora, Spotify, and many other APP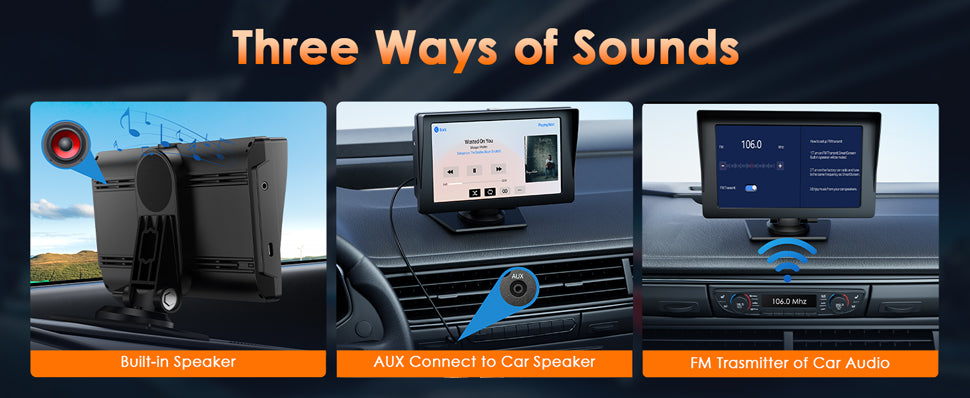 Make Your Cars More Tidy and Beautiful
Longer Cable and Beautiful
Using a longer charging cable can avoid the interference of the car FM and weak current, avoid noise, and enjoy a better driving experience

You can hide the wires in the car to avoid the clutter caused by too many wires on the dashboard, making your car more beautiful and tidy
Easy Installation and Save Money
Just turn on Bluetooth and WIFI to connect with the wireless car play screen, which is more beautiful and convenient

We have equipped with a suction cup bracket for easy installation, which saves most of your time and money
What's in the box
1 x 7 Inch AHD Monitor
1 x Cigarette Lighter power
1 x AUX Cable
1 x Suction Cup Bracket & Desktop Bracket
1 x Manual