3 in 1 Travel Portable Storage Medicine Boxes has the three functions of Pill Crusher,Pill Grinder,Pill Case(7 day).

Protect your health and get an innovative pill case to help keep you more organized.

FEATURES:
Multifunctional Pill Cutting Machine: Our small pill box not only stores pills, but also accurately cuts the pills into the right size or grinds them into powder, making it easier to swallow vitamins and pills.
Safe Material: Pill crusher and separator made of high-quality ABS material, environmentally friendly, non-toxic, odorless, safe and reusable. Store and use medications safely to protect the health of you, your family, and friends.
Easy to carry: 7 transparent storage boxes are hidden, and the amount of medicine for a week when you go out can be included. Perfect for travel, gym and office crowds.
Waterproof: The sealing effect of the storage box is very good, preventing the drug from getting wet inside the door and storing it for a longer time.
Practical Pill Container: The pill cutter is ideal for people who cannot digest or swallow whole pills, such as the elderly, children. Your pills (vitamins, supplements, medications, pills, etc.) can be stored separately and organized in pill boxes to keep them dry and fresh.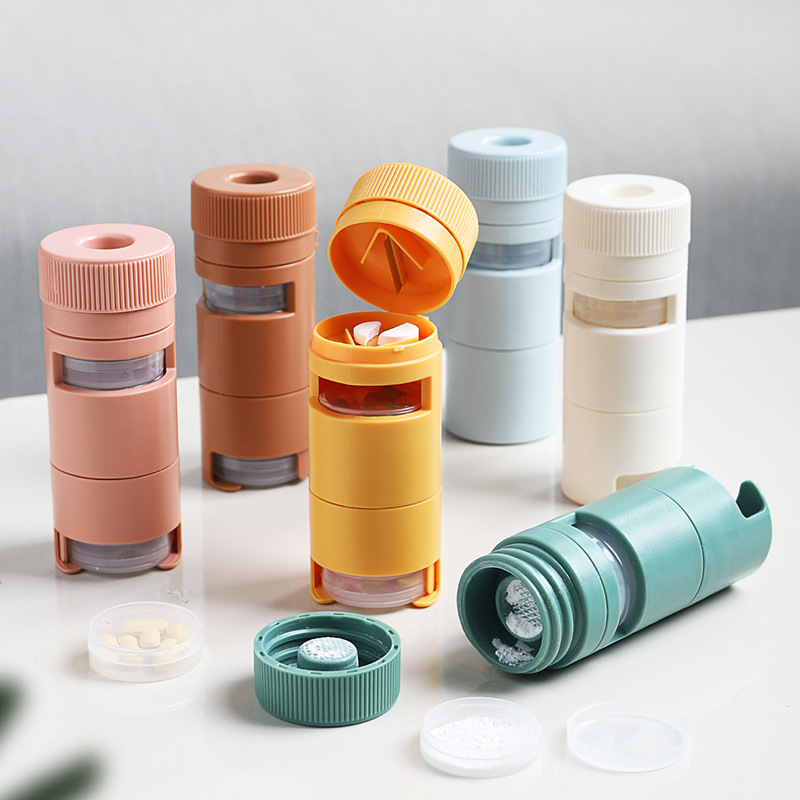 SPECIFICATION:
Material: PET+Silicone
Process: Electroplating
Size:12.2*4.7cm
Weight: 100g
PACKAGE INCLUDE:
1* 3 in 1 Travel Portable Storage Medicine Boxes